Explore Brickhouse Vineyard,
one of Devon's undiscovered secrets
A rural Devon vineyard wedding venue
Set within a countryside that feels as though it has always belonged to Brickhouse Vineyard, our unique and exclusive vineyard wedding venue awaits your love story. As a family run business with a tight-knit team at the helm, we couldn't be prouder to bring you one of Devon's undiscovered secrets, offering you the chance to celebrate in the most personal way.
Just a stone's throw from Exeter, Brickhouse Vineyard sits amongst rolling hills, patchwork fields and miles of wild woodland that seems to stretch on forever. With our endless views, unspoilt backdrop and vines that have been harvested from scratch, our rural Devon wedding venue has the rare ability to allow you to escape, so that you feel like as though you are worlds away from anywhere. Just for the day, but you'll find a day is all you'll need.
Our Vision
Bringing people together
It began as a vision, the ideas developed into a scribble on a notepad, and somewhere amongst the rubble, the planning, and the dream we refused to let go of, we created Brickhouse Vineyard. From the very start, we endeavoured to build a business that brought people together in one place – to gather, to feast, to celebrate and most importantly, to love.
We adore welcoming couples who value integrity, appreciate the simplicity of the beauty we have on our doorstep and seek somewhere relaxed, secluded and spacious to say, 'I Do'. From our historic thatched Round House to our rustic Barn, our collection of spaces offers you the opportunity to step away from the everyday, where you can relax without interruption from the outside world, so you can really make it yours. Offering a variety of wedding packages to suit your celebration, you have our promise that our family team will always go the extra mile.
Brickhouse Vineyard is a setting that is waiting to be discovered. It has a story that is asking to be unravelled. And its magic was restored with you in mind.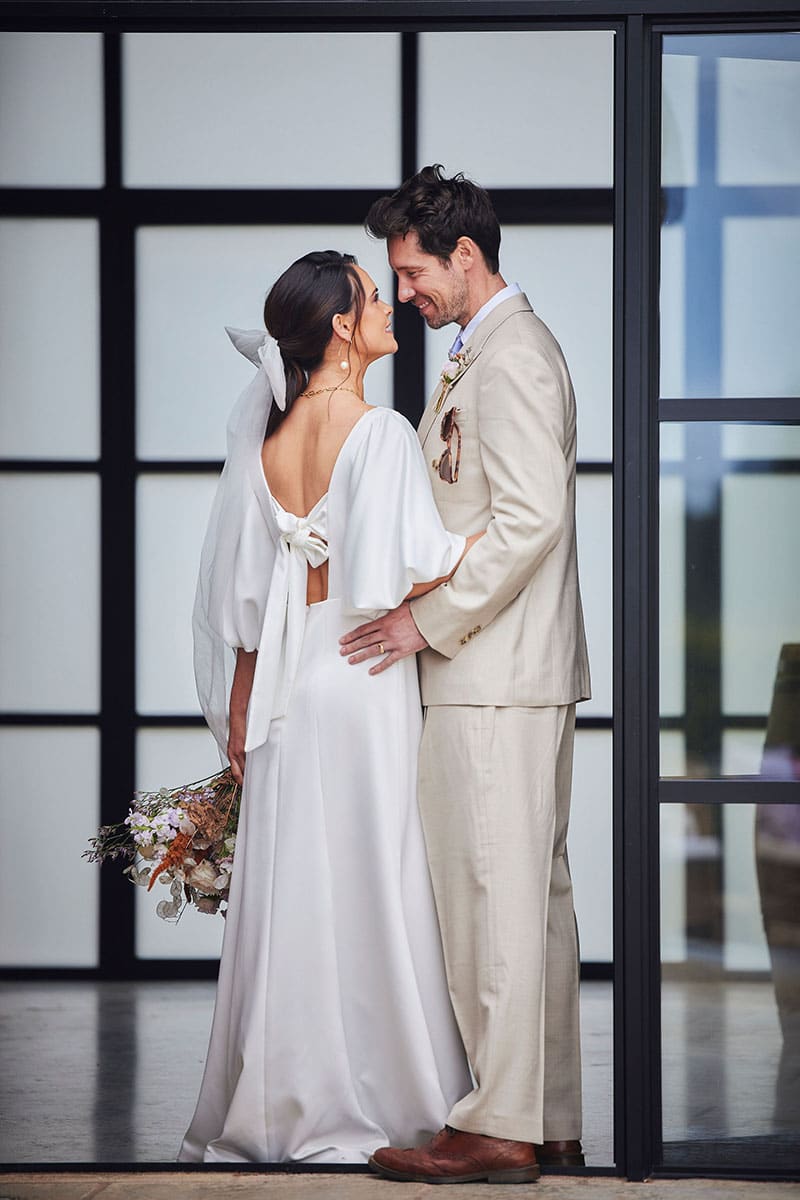 Our Wedding Packages
A day tailored to you
Brickhouse Vineyard offers a variety of vineyard wedding packages for you to choose from, all of which are booked exclusively for your love story and can be tailored to your specific requirements. We also welcome children and pets to your wedding guest lists – the more, the merrier!
Elopement Weddings
Designed for loved-up couples who want to focus on just the two of you! Your wedding at Brickhouse Vineyard will begin with an intimate ceremony, followed by a photography session in the vineyard and a delicious Champagne afternoon tea.
Find out more about our elopement wedding packages here.
Micro Weddings
If you adore the thought of a smaller celebration with just your closest loved ones, a micro wedding at Brickhouse vineyard is made for you. You'll have the time and space to enjoy your wedding ceremony, canapés and fizz on the terrace, a photography session in the vineyard and a mouth-watering meal. This also includes the cake-cutting and first dance before you and your guests head home!
Find out more about our micro wedding packages here.
Barn Weddings
Our light-filled and spacious barn provides a dreamy backdrop for those who want to host a larger wedding from the ceremony right through until the evening. Inclusive of all day venue hire, there is capacity for up to 60 guests for your ceremony and wedding breakfast, followed by 100 guests for the evening party.
Find out more about our barn wedding packages here.
Please note, the Registrar fees are not included in the price of venue hire at Brickhouse Vineyard. The additional cost is payable directly to the Devon Registration Service, please call 0345 155 1002 for more information on Registrar fees.
Testimonials
Kind words from our couples
Briony & Kerry
Honestly, where do we start? Jo and her team completely knocked it out the park. We are still speechless almost a week later…
The barn and roundhouse have an elegant and luxury feel, a beautiful blank canvas ready for your special additions. The Vineyard and its far reaching views give a feeling that you have left normal life behind. I cannot express how completely blown away we were with the venue and staff. I knew from the moment I stepped out the wedding car, we were in safe hands. Jo you are so lovely, organised and have exceptionally high standards with everything you do, what more could a detail obsessed bride ask for? I knew you understood our vision!
We have had so many compliments about our day and I cannot recommend this venue highly enough! We felt like we were in paradise for a day.
From bottom of our hearts, thank you! It's a day we will never forget.
Photo by L Dillon Photography
Chelcie & Carl
Brickhouse Vineyard is the most gorgeous venue! From the first time we visited we fell in love with the place. We were looking for a venue that was for a more intimate wedding, as we didn't want something too big, and after the first visit nothing else compared.
Our guests were in awe when they arrived at how amazing and beautiful, they thought the venue was. All the staff we interacted with, both in person and through email, were all so lovely and helpful, and thanks to them our day ran so smoothly. They truly have a wonderful team.
Photo by Perfect Story Photography
Naomi & Aidan
We got married at Brickhouse Vineyard in June 2022. It was truly the most magical day, and everything we hoped for and more…
Everyone at Brickhouse was so accommodating and helpful in the run up to our big day. We live quite far away from Devon and the venue, so it was great to have the amazing team at Brickhouse who always made themselves available to respond to any queries we had. They allowed us to visit the venue a couple of times during the planning process and were always kind and ready to help, with plenty of recommendations for local wedding vendors too.
The day itself was perfect and ran so smoothly! The venue is absolutely stunning, and the gorgeous natural surroundings provided us with the most beautiful backdrop for our wedding photos. Our wedding was very boho in theme and the whole setting was just so dreamy.
We would happily relive our wedding day over and over again…even our two young children loved it so much they asked us 'when can mummy and daddy get married again?' All our family and friends who attended said how amazing and perfect everything was.
Sending a massive thank you to Brickhouse Vineyard. 100% recommend as a destination to get married!
Photo by Elsie Love Photography
If you've fallen for our Devon wedding venue, please get in touch. We can't wait to hear from you!